Shop & Donate
Recycle Ann Arbor's ReUse Center offers more than 20,000 square feet of store space, selling a huge variety of household and building materials at affordable prices. The ReUse Center also offers Urbanwood for sale.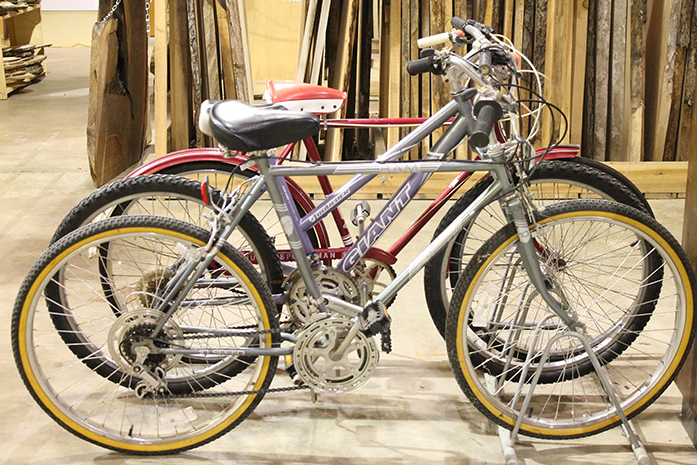 SEASONAL UPDATE: WE ARE NOT ACCEPTING DONATED LAWN AND GARDEN ITEMS THROUGH MARCH 2020.
The inventory changes every hour, seven days a week!
Visit us every Wednesday for 1/2 off sales on select items throughout the store!
Regular customers know that the key to finding the good stuff is to shop frequently and know the store's layout. There are those who visit looking for the unexpected, and those who come with intent to find a specific item, such as the matching half of a doorknob, or a bicycle for their child.
The donations and purchases of reusable materials not only support Recycle Ann Arbor's environmental programs, they help to conserve resources and energy, and to reduce waste in our community.Donate: The ReUse Center is a 501(c)3 non-profit organization. All donations are tax deductible! Your donations and purchases of reusable items help to conserve resources and energy while reducing waste in our community. All proceeds from the ReUse Center go directly toward maintaining the facility, hiring staff and supporting other waste reduction activities in the community.
Donating is easy and convenient at the ReUse Center
Just drive through the gates and look for the friendly ReUse Staff. Unloading and loading assistance is available. However, we ask that you do not donate items during inclement weather. Thanks for understanding. We also offer material pick-ups for local residents, businesses, builders, and remodelers. Items must be of individual high resale value to qualify. For pick-up information, call (734) 222-7880.
What We Accept:
Building materials: new or in good, reusable condition
Clean lumber: 4' or longer, no rot, infestation, or nails are acceptable
Doors: good condition, no gray aluminum storm doors 
Windows: no single pane or aluminum frame  
Chipboard, OSB, plywood: half sheet or more
Siding: large lots only
Flooring: wood and vinyl
Roofing: new, wrapped packages only, no loose roofing
Kitchen and bath cabinets
Tubs: no chips, cracks, or cast iron
Tile: glass, mirror, brick, block, or paving 
Lighting: complete, no PCB ballasts
Hardware
Tools
Fencing: chain link, treated wood with no rot
Household items: complete, clean, new or in good, reusable condition
All electronic items will be screened for age, condition, and resale value. 
Couches
Desks
Tables
Recliners
Patio Furniture 
Stuffed (upholstered) chairs
Chair sets of two or more
Dressers
File cabinets
Bed frames
Bedroom sets
Bookcases
Antiques and collectibles
Microwaves: no older than 5 years old
Small kitchen appliances
Stereo equipment (*at our discretion, Oct 2016)
DVD players (*at our discretion, Oct 2016)
CD players (*at our discretion, Oct 2016)
Record turntables (*at our discretion, Oct 2016)
Monitors: flat screen monitors only
Cameras
Telephones and cell phones
Projectors
Lawn mowers
Gardening supplies 
Exercise equipment
Sports equipment
Books (no old text books or encyclopedias)
Audio and video tapes
Records
CDs
Artwork
Kitchenware
Office supplies
Healthcare equipment
Pet supplies
Luggage
Donations Accepted by Pick-Up Only
All major appliances must be less than 10 years old and in working condition. Please call 734-222-7880 to schedule a pick-up. 
Temporarily Not Accepting:
What We Don't Accept
Please note: We are no longer accepting mattresses or box springs.
Washing machines, refrigerators, stoves
Printers 
Carpet 
Condition: The ReUse Center will not accept anything that is not in good condition. This includes anything broken, damaged, mildewed, or soiled
NO dishwashers, water heaters, or sink faucets: Due to the "2014 Reduction of Lead in Drinking Water Act" we can no longer sell or accept these items.
Home goods: Clothing, toys, any baby or kid toys/items, cribs, strollers, car seats, fluorescent bulbs, vacuum cleaners, old textbooks, and encyclopedias
Building materials: Shower doors, lumber less than 4' long, nail-fitted/twisted/rotted wood, sheet goods less than half original size, non-tempered glass storm doors, doors with suspected lead paint, ceiling tiles, paints/solvents, window blinds, ceiling fans
Air conditioners, dehumidifiers, humidifiers (drum-style), water heaters
Automotive items: Tires, batteries, engine parts, oil, fluids
Furniture: Mattresses, box springs, metal desks, office cubicles, single non-upholstered chairs, any assembly required pieces, sleeper sofas
Electronics: Cords, flat screen and all other televisions, computers, non-flatscreen computer monitors, printers, scanners, fax machines, Makita cordless drills, 
Many of the above items are accepted at Recycle Ann Arbor's Drop-Off Station
Household hazardous materials are not accepted at the ReUse Center or the Drop-Off Station. They may be taken to the Washtenaw County Home Toxic Center. Call (734) 222-3800 for information or visit washtenaw.org/hometoxics
Household hazardous materials include paint, flammable liquids, toxic waste, chemicals, thermostats, thermometers, and smoke detectors.
All policies are subject to change without notice.