Trailer Rental, Pick Up, and Delivery Service
For the convenience of customers that do not have access to a vehicle suitable for transporting their waste, recycling, or compost and mulch, the Drop-Off Station offers both a pickup service and a trailer rental service.
The trailers are 5 - 1/2' x 8 - 1/2' and hold 5 Cubic Yards of material.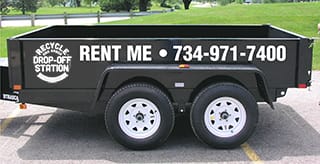 Dump Trailer Rental
The trailer can be rented and placed on site for use in a do-it-yourself project or house/basement clearance. The usual rental period is 48 hours. The cost for rental is $190.00 including disposal fees.
The trailer can hold a maximum of 5 cubic yards, the following applies:
The trailer can not be placed on grass, it must be on a driveway.
Customers must not hitch the trailer during the rental period.
The trailer must not be overloaded.
The trailer can not be used for concrete.
There is a $30 fee for each additional day.
Items listed on the Do Not Accept List are prohibited.
Pick-Up Service
A pick-up service can be arranged by calling the Drop-Off Station. The fee for a pick up of 2 cubic yards is $100. Every additional cubic yard, above two, is $30 up to a maximum of 5 cubic yards $190.00
The items to be picked up must be outside of the home and easy to reach.
Additional fees will be charged if there is extensive loading time required.
Cash, Checks and Credit Cards are accepted.
The pick up of items listed on the Do Not Accept List is prohibited.
Excess concrete amounts can not be picked up in the trailer.
Delivery Service
A delivery service is available for customers wishing to purchase compost, woodchip, and mulch. The Drop-Off Station can deliver up to 5 cubic yards of product per delivery.
The delivery fee is $80.00 per journey, the following applies:
Under no circumstances will the driver drive over a grassed area.
Typically the delivery area is within a 10-mile radius of the Drop-Off Station.
Fees for excess mileage/time are charged for deliveries expected to take excessive time when outside of the ten-mile radius.
Heavy rain prior to the delivery may require postponement of service.
The delivery of two different products in the same trailer WILL lead to mixing of the products.
A clear indication of the dump location for the product must be given or the area should be marked with a tarp or sign.
For information on compost, woodchip and mulch products see here.