Plastic Pollution Solution
The Plastic Pollution Solution is a program of Recycle Ann Arbor in partnership with Washtenaw County Solid Waste that launched on July 3rd, 2018– International Plastic Bag Free Day.
Plastic is everywhere and unfortunately that includes the environment, too. Single-use plastics exacerbate plastic pollution, which is why we created this campaign to give you the resources to reduce plastic use first and foremost, to reuse the plastic you do have, and to properly recycle any plastic that is no longer able to be reused.
The goals of the Plastic Pollution Solution campaign are to: 
Educate the community about the issue of single use plastics.
Encourage the reduction and reuse of single use plastics.
Facilitate a convenient collection system to properly recycle plastic bags and other soft plastics throughout the community.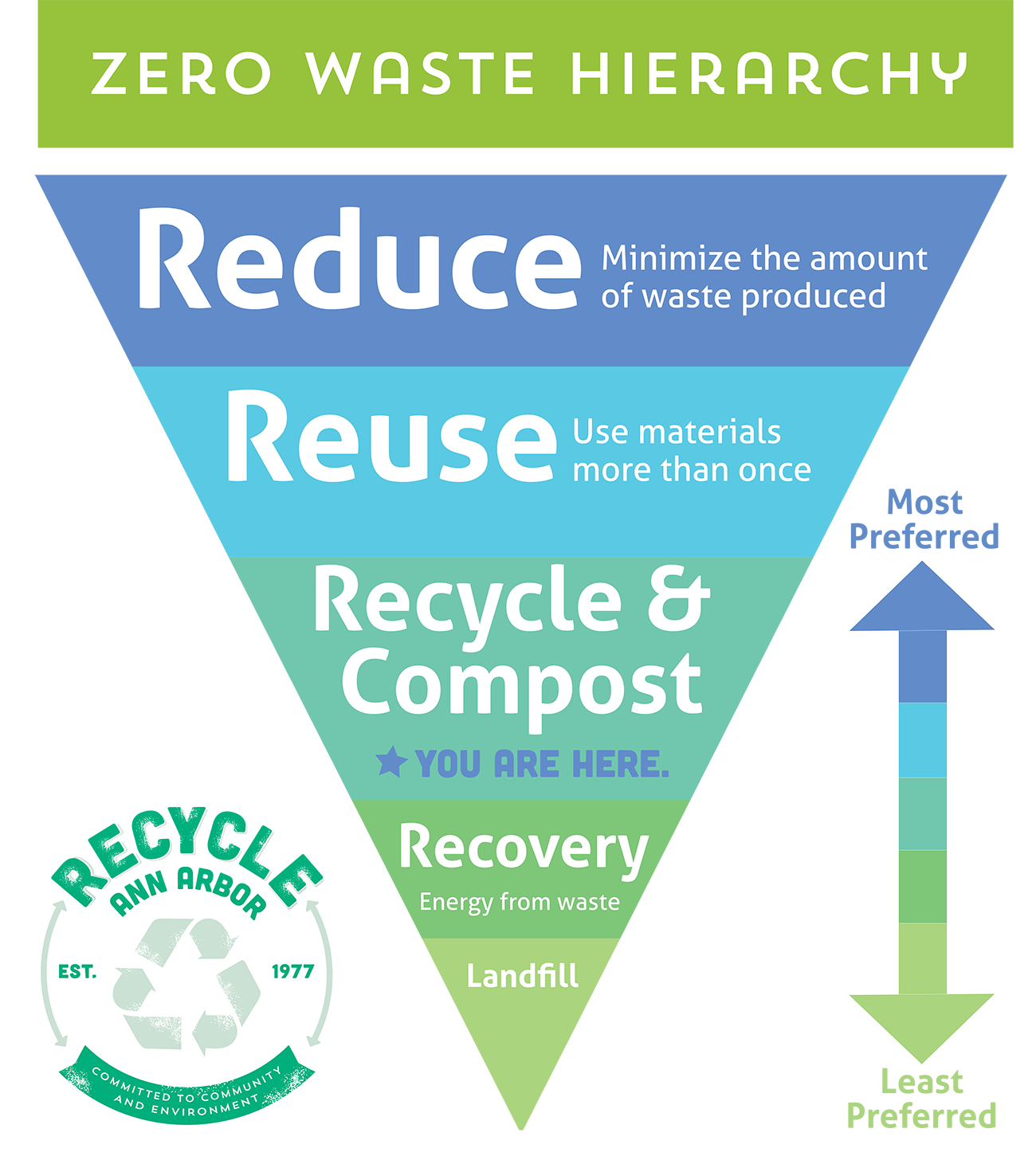 This campaign's current focus is on single-use plastic bags and other similar soft plastics because they are not only contaminating the environment but also our single-stream curbside recycling system. Plastic bags and other flexible plastics pose a serious problem within our curbside recycling system, creating contamination and damaging the recycling sorting equipment. In a changing recycling landscape that faces mounting obstacles, having clean, uncontaminated recyclables are crucial to future success. By providing resources to reduce, reuse, and properly recycle soft plastics, we hope to decrease the level of soft plastic contamination that we are currently seeing in our curbside collection program. 
In an effort to reduce plastic bag waste and encourage consumer reuse, Washtenaw County adopted Michigan's first single-use carryout bag ordinance in June 2016. The ordinance called for a 10-cent eco-fee for each disposable bag (plastic and paper) distributed. Washtenaw County's ordinance was scheduled to go into effect on Earth Day (April 22) 2017. However, in December 2016, the State of Michigan approved Public Act 389, which preempts local Michigan communities from regulating the use or distribution of all "auxiliary containers", including plastic bags and any other carryout container. In lieu of implementing policy to address the single-use plastic bag problem, we have created this voluntary campaign because we know how important this issue is to our community.
Reduce & Reuse Single-Use Plastics
Single-use disposable items have become increasingly popular because of their convenience, but that doesn't mean reusable alternatives are inconvenient - they just take getting used to! Try making one change at a time, such as getting a reusable water bottle, and once that becomes comfortable try another one, such as a reusable shopping bag. Over time you can phase out single-use plastics from your lifestyle, which will help conserve natural resources and protect the environment from plastic pollution. 
Transitioning away from single-use plastics is a process. Be patient - changing a habit doesn't happen overnight and just because you're ditching single-use plastics doesn't mean the rest of the world is (yet!). You may inadvertently get those pesky plastics in your life, whether someone gave you something in a plastic bag or you forgot your reusable water bottle that day. No need to despair! There are many ways to reuse those items to make the most use out of the resources extracted from the planet.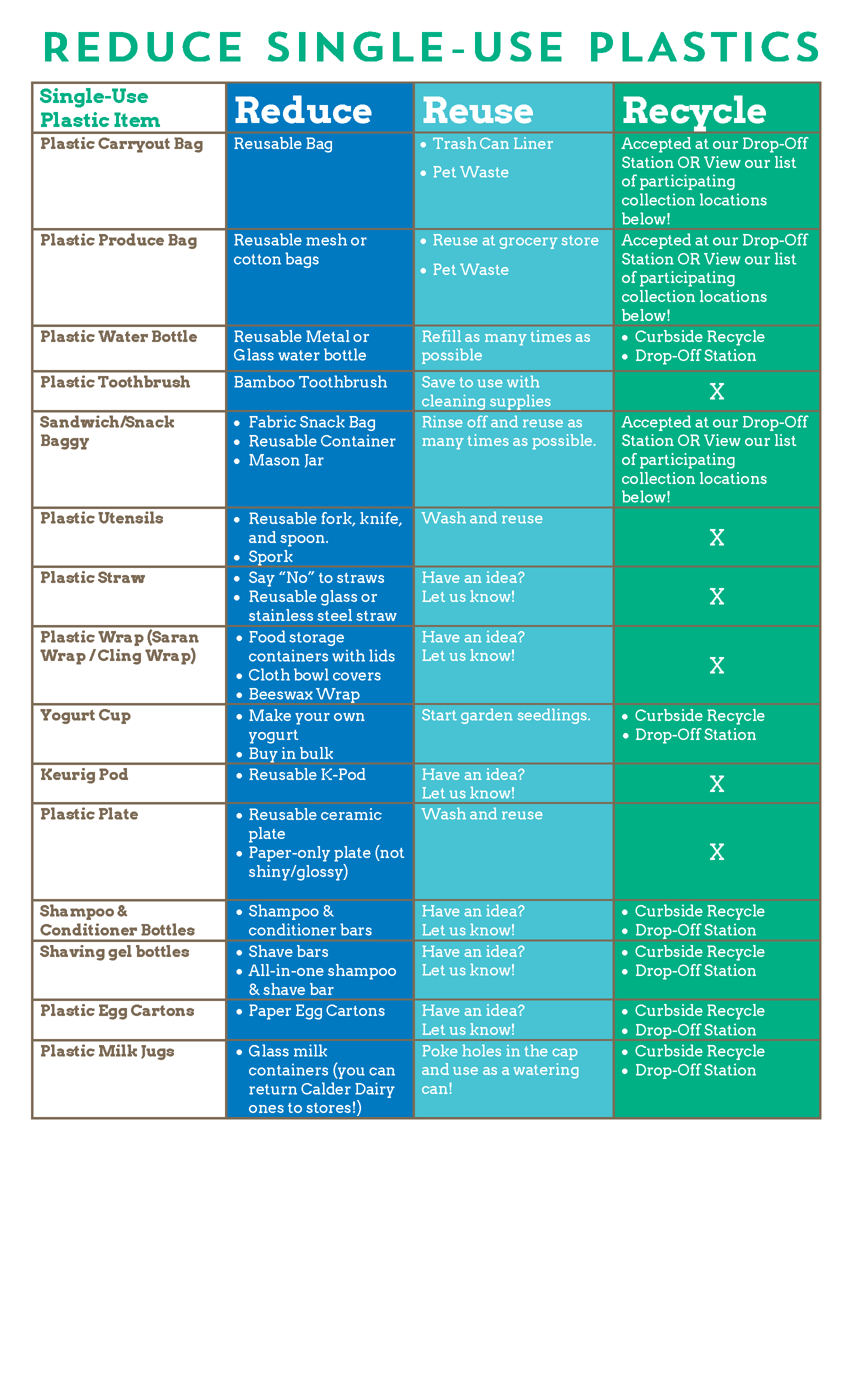 Properly Recycle Soft Plastics
Recycle Ann Arbor is facilitating the development of a diverse network of drop off locations collecting plastic bags and other soft, flexible plastics to ensure that they are recycled properly and do not end up in the landfill or worse, as pollution in our waterways. We also accept these materials at our Drop-Off Station. The soft plastics we receive will be recycled by our partner, Trex, to be made into composite lumber. Our hope is that as people collect their soft plastics for recycling they will work towards identifying alternatives to those items and eventually completely phase out their single-use plastics.
Look for the green bins (see image below) at participating public collection locations:
Zingerman's Deli - 422 Detroit St., Ann Arbor - Outside bike parking porch
Zion Lutheran Church -1501 W. Liberty St., Ann Arbor - Welcome Center
Zion Lutheran (Chelsea) - 3050 S. Fletcher Rd., Chelsea - Lobby
Trinity Lutheran Church - 5353, 1400 W. Stadium Blvd., Ann Arbor - Lobby
Emmanual Lutheran Church - 201 N. River St., Ypsilanti - Lobby
St. Mark's Lutheran Church - 1515 S. Harris Rd., Ypsilanti- Lobby
King of King's Lutheran Church - 2685 Packard Rd., Ann Arbor - Lobby
Holy Faith Church - 6299 Ann Arbor - Saline Rd., Saline - Lobby
Lord of Light Lutheran Church - 801 S. Forest, Ann Arbor - Vida Cafe Area, Lower Level
Saline District Library - 555 N. Maple Rd., Saline - Foyer
True North Jerky - 12855 E. Old U.S. Highway 12, Chelsea
Dexter City Hall - 8123 Main St., Dexter - Second Floor City Hall Lobby
BGreen Today - 2111 Packard St., Ann Arbor - Foyer
Saline City Hall - 100 N. Harris St., Saline - Foyer
Vertex Coffee Roasters - 1335 S. University Ave., Ann Arbor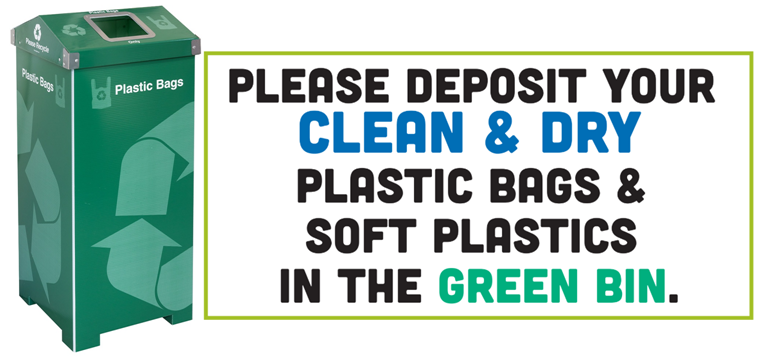 COMPLETE LIST OF WHAT IS ACCEPTED
ALL ITEMS MUST BE CLEAN AND DRY.
Grocery bags
Bread bags
Case overwrap (wrapping over toilet paper, water bottle cases, etc.)
Dry cleaning bags
Newspaper sleeves
Plastic shipping envelopes (plastic only, not paper lined)
Ice bags
Wood pellet bags
Ziplock and other resealable food storage bags
Produce bags
Bubble wrap and air pillow
Salt bags
Cereal bags
Flexible plastics that have a #2, #4 or "Store Drop-Off"  
WHAT IS NOT ACCEPTED
Saran wrap / Cling wrap
Frozen food bags
Pre-washed salad mix bags
Chip bags 
Candy bar wrappers