Zero Waste Events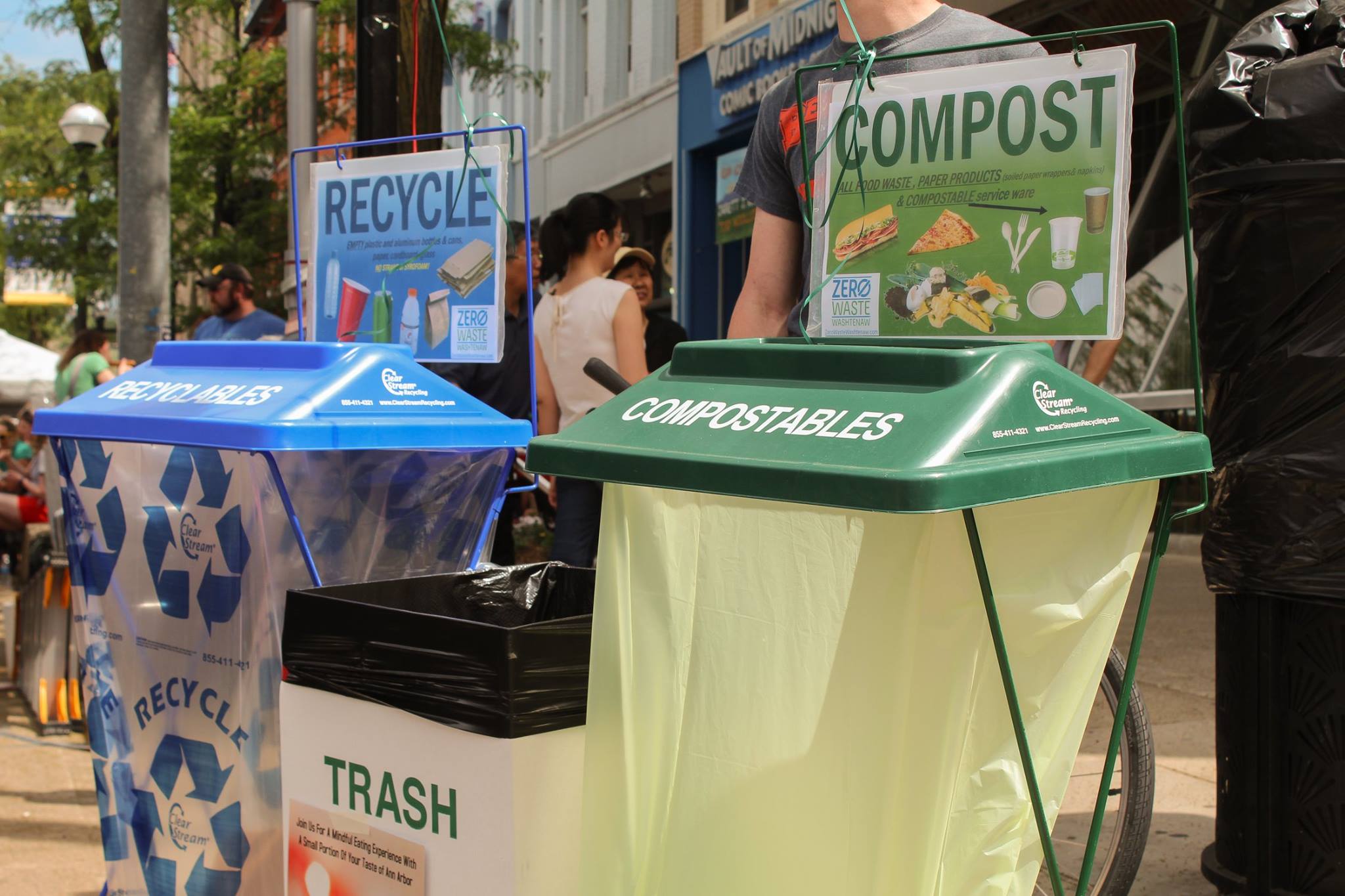 Recycle Ann Arbor partners with special events, large and small, to reduce their environmental footprint by working towards zero waste. Since 2012, the program has worked with event coordinators and individuals to reduce their overall waste while making conscious choices aimed at recycling and compost options.
What is Zero Waste?
Recycle Ann Arbor supports the Zero Waste International Alliance definition of zero waste that has been peer-reviewed and internationally accepted:
"Zero Waste: The conservation of all resources by means of responsible production, consumption, reuse, and recovery of products, packaging, and materials without burning and with no discharges to land, water, or air that threaten the environment or human health."
Learn more about Zero Waste on our Zero Waste Community page!
Why Host a Zero Waste Event?
A Zero Waste Event (ZWE) is an important part of fostering a local Zero Waste Community. A ZWE is often times the first time someone has heard the term Zero Waste making the event an entry point for many people to learn more about Zero Waste.
Special events tend to generate a lot of trash due to disposable food and drink packaging, handouts, and other activities. Unfortunately, many special events do not have recycle bins and most do not have compost bins. This makes events the perfect demonstration point for Zero Waste - it shows patrons that we can make conscious choices that will limit our resource use and our contributions to landfills. We know that with a little planning ahead we can reduce unnecessary waste, find reusable alternatives to disposables, and only get disposables that can be collected in our provided recycle and compost bins.
The goals of a ZWE are to plan ahead to reduce waste wherever possible and to recover at least 90% of the event waste in the recycle and compost streams. Many events do not reach 90% landfill diversion in their first year and that is okay! It is their effort and commitment to continue working towards the goal that is the most important. 
A ZWE not only aims to reduce landfill (and incineration) bound waste, but also overall environmental impact. In addition, another equally important goal of a ZWE is to educate the event attendees about the grander vision of Zero Waste. The ultimate goal for attendees is that by directly seeing and learning, they will be empowered to take action in their daily lives to reduce their own waste footprint and overall environmental footprint.
So, are you ready to work towards making your event a Zero Waste Event?
Check out our Zero Waste Event Services page to learn how!
Are you part of a Zero Waste Event? Review the Zero Waste Guidelines for exhibitors and food vendors.