Roll-Off Containers (Dumpsters)
The Recovery Yard has been providing prompt and reliable service to southeast Michigan for more than 50 years. The Recovery Yard is the only 501(c)3 non-profit construction and demolition recycler in Michigan and is operated by Recycle Ann Arbor.
The Recovery Yard's professional and experienced staff will work with you to meet your C&D recycling needs, whether the project is large or small. Whether you are clearing out a basement, remodeling, concrete work, demolition, new home construction, cardboard recycling, or moving, we'll make sure your debris is handled in an environmentally-responsible manner. We can even help you achieve LEED certification, just ask. Our goal is to recycle the maximum amount of material from each construction site.
Our estimates are always free, and we offer next-day scheduling on most services. Count on the Recovery Yard's prompt and reliable service to keep your project on track.
Roll-off Container (Dumpster) Sizes and Dimensions: 
10 yard: 8' W x 16' L x 3' H
20 yard: 8' W x 23' L  x 4' H 
30 yard: 8' W x 23' L  x 6' H 
40 yard: 8' W x 24' L  x 7.5' H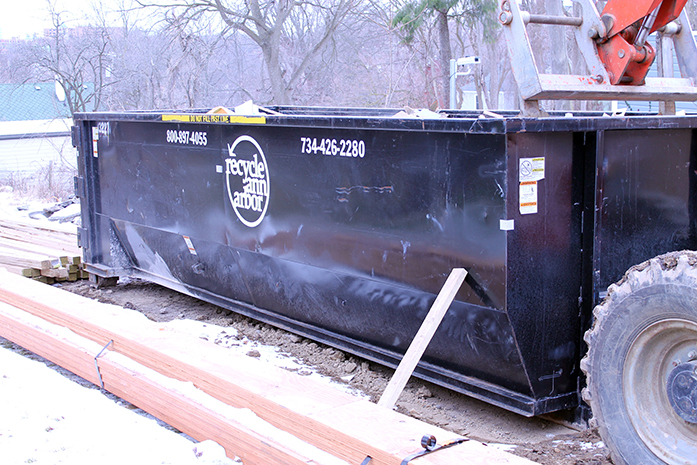 Roll-Off Dumpster Pick Up 
At the scheduled time of pick up for your roll-off dumpster please ensure the following in order to receive prompt service and no additional fees: 
1. No vehicles are blocking the dumpster and that the truck can access the dumpster to load it. 
2. The dumpster materials are level and not overloaded.
3. No snow is plowed around the dumpster preventing servicing. 
4. Entrances to site are plowed and salted allowing trucks safe access.
Other Services:
Need a quote or more info?
Additional content
Insider's Tip: Calling around to price check? Ask about hidden fees. Many service providers charge additional fees for their roll-off dumpsters.