Urbanwood
The Reuse Center is officially closed. Please read our statement regarding its closure. We appreciate your patience, while we work with the Urbanwood Mills to determine where the wood will be relocated. We will let you know where you can purchase reclaimed urban wood as soon as a new location is determined. Until then, please reach out directly to the participating mills: Tervol's Wood Products, Raven Farm, Pleasant Lake Hardwoods, The Lumberjacks, Tree-Purposed Detroit, and Universal Fabrication Services
The Urbanwood Network
About Urbanwood
Urbanwood: Since 2005 we've been offering unique and artful wood that comes from trees not harvested for their timber value. For example, our wood comes from trees suffering from age, disease, or storm damage. Historically, this wood would have been sent to the chipper. Instead, local, family-owned mills produce and sell beautiful and sustainable pieces of wood for your project.
Urbanwood's network of local sawmills turns Southeast Michigan's dead urban trees into products that bring lasting value and exceptional character to your home.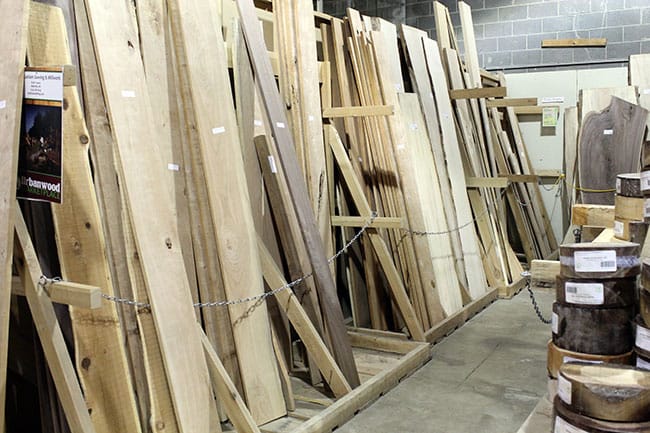 Announcing the Birge Urbanwood Center 
The Urbanwood Project began in 2005 as part of Recycle Ann Arbor and the Southeast Michigan Resource Conservation and Development Council's efforts to encourage more recycling of dead urban trees, especially those killed by the emerald ash borer. Many local businesses have joined this project to provide high-quality, sustainable wood products to southeastern Michigan. Where most people see a loss when community trees are removed, our partners know these trees can live on as green products that conserve resources and support local jobs. In 2017, Recycle Ann Arbor renamed the Birge Urbanwood Center in honor of Bill Birge, who recently retired from decades of service as an RAA board member. Bill is an accomplished woodworker and has been a passionate and valued champion of Urbanwood since its earliest days.