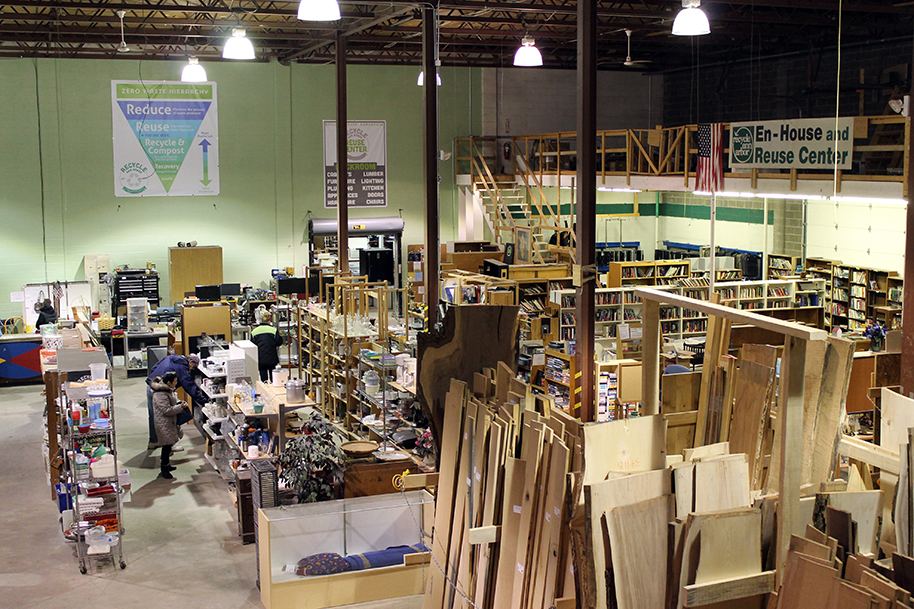 The Recycle Ann Arbor Reuse Center has closed.
The Recycle Ann Arbor Reuse Center has closed. Please stayed tuned for Recycle Ann Arbor's future reuse plans. 
September 2nd, 2020 
We are heavy-hearted to announce the Reuse Center's permanent closure (2420 S. Industrial Hwy, Ann Arbor, MI 48104.) We did not make this decision lightly; the Reuse Center- its mission, staff, and customers are dear to us. However, in light of the Covid-19 pandemic and the challenges of implementing sufficient health and safety protocols at a thrift store along with an inability to negotiate fair and sustainable rent terms with our landlord, it is not feasible for us to reopen. 
We want to assure the community that this will not be the end of Recycle Ann Arbor's engagement within the reuse community. Merely a pause, while we re-envision what our future reuse efforts will involve. In the meantime, we will continue to communicate the community's reuse options through our A-Z Guide at https://www.recycleannarbor.org/a-z-recycling-guide. 
We thank the community for the many years of shopping and donating at the Reuse Center. We hope that you will continue to reuse, repair, refurbish, and donate usable goods to the many local thrift stores. 
Recycle Ann Arbor continues to provide recycling and waste services at the Drop Off Station (2950 East Ellsworth Rd. Ann Arbor, MI 48108) and the Recovery Yard (7891 Jackson Road Ann Arbor, MI 48103.) See website for hours of operation and materials accepted. 
Feel free to email us at [email protected] with any questions regarding the closure of the Reuse Center or other recycling related needs. 
Thanks for Recycling! 
The RAA Team