All Divisions of Recycle Ann Arbor will be closed on Monday, May 29th, to observe Memorial Day. Curbside Recycle Carts will be delayed by one day through Saturday.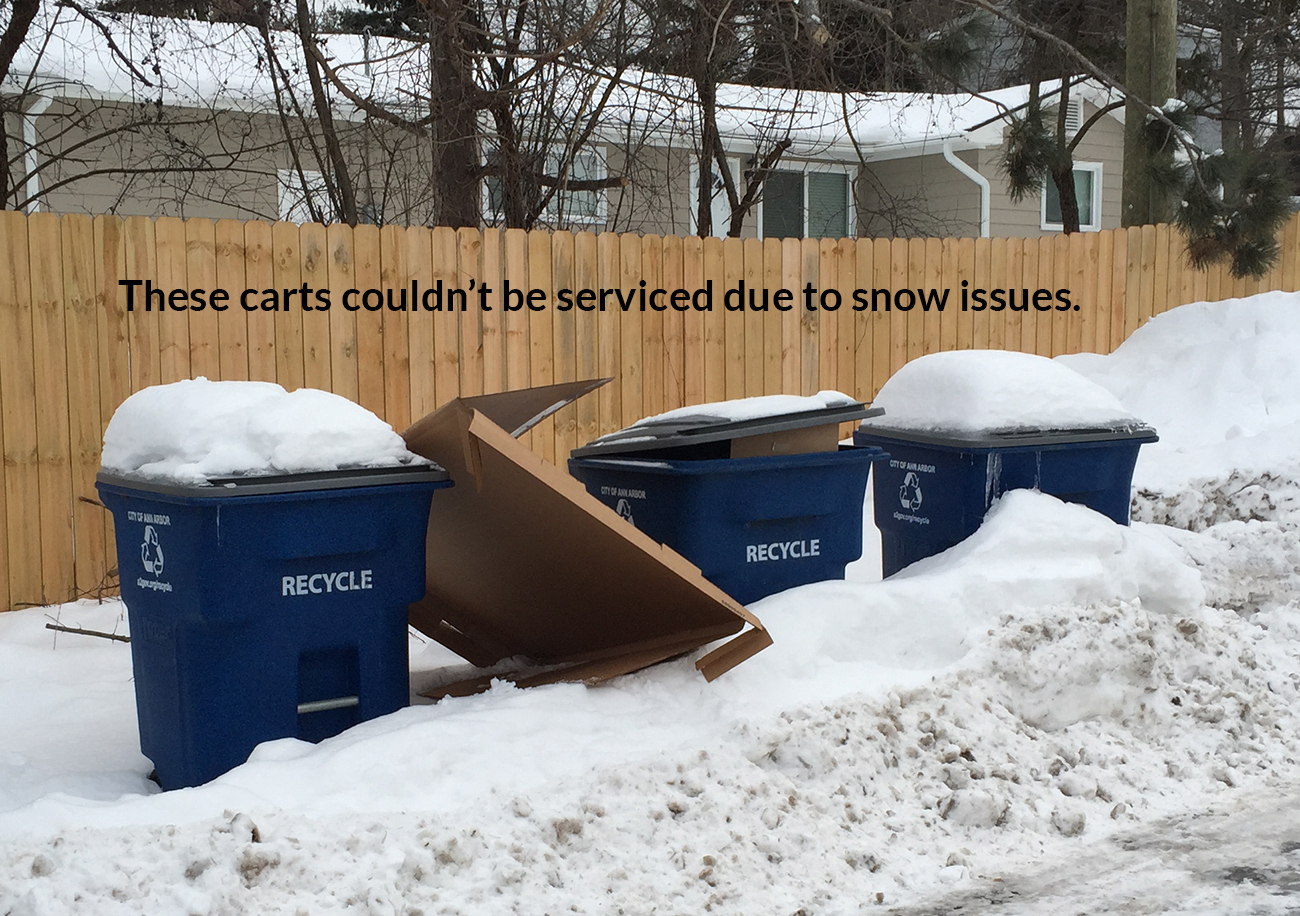 Winter Curbside Recycling Readiness
Winter is on it's way and we know that while you may be planning to spend some extra time indoors, you will still need to venture to the curb to set out your solid waste carts. Here are some tips to ensure that your recycling still gets picked up during inclement weather. These tips apply to residential and commercial solid waste areas.
All dumpsters and carts must be clear of ice and snow.
All solid waste container locations must be shoveled, cleared of snow and ice, and a salt/dirt mix used to ensure safe accessibility for all service trucks and workers, whether it be dumpsters or carts. Please note that unserviced areas could result in a City Community Standards violation and fine.
Please remove carts from streets, driveways, and parking lots so that they can be plowed.
Be sure that the lids to your dumpsters or carts remain closed at all times. This will help prevent material from freezing inside carts. Containers cannot be serviced if they exceed the trucks arm's "weight capacity".
Do not place bagged or flattened materials in front of, next to, or on top of any trash or recycle containers. Service providers will not be able to access and service your solid waste containers.
All curbside trash and recycling carts should be:
Put out the night before your service day (recommended), or on your designated service day by 7 am for residents and 6 am for businesses.
Place carts 3 ft apart from other carts and obstacles with the steel bar and lid facing the street.
Place carts in a uniform line; no staggering carts behind each other.
Place carts on a cleared street or driveway; or shovel a shelf (1 inch from ground level) into the street side of snow banks to ensure service of carts. Please refrain from placing carts on top of snow banks.
We appreciate your extra attention to your curbside recyclables during winter and your dedication to reducing the amount of waste headed to the landfill. Keep in mind that both Recycle Ann Arbor's Drop Off Station and the Recovery Yard accept a broader list of materials for drop off recycling. For a complete list of materials accepted at each location along with hours of operation check out our A-Z Recycling Guide
If you have additional questions or concerns regarding your recycling cart service please contact us at 734-662-6288 or email us at  [email protected].
If you have questions or concerns regarding your recycling/trash dumpsters, trash or compost cart collection, please contact the City of Ann Arbor at 734-994-2807 or email them at [email protected]