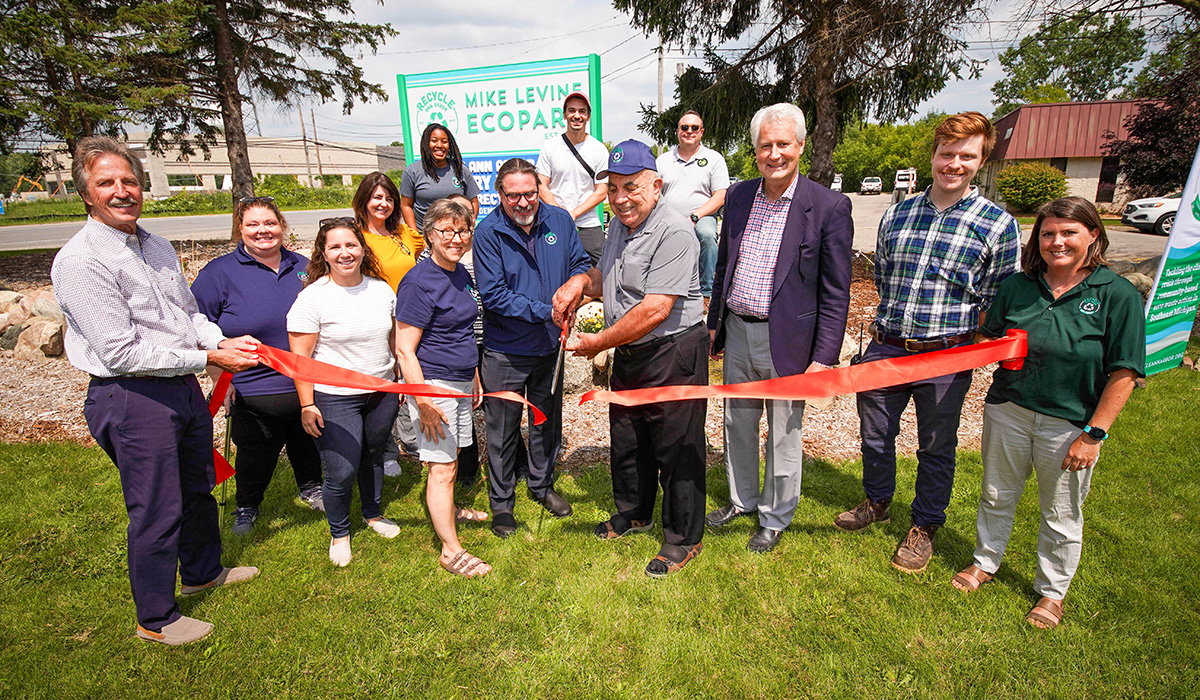 Recycle Ann Arbor holds ribbon cutting ceremony at the new Mike Levine EcoPark to honor namesake
Press Release, August 22nd, 2023
On August 2, 2023, Recycle Ann Arbor (RAA) held a ribbon cutting ceremony on the front lawn of the Mike Levine EcoPark, located at 7891 Jackson Rd, Ann Arbor, to honor RAA supporter, and EcoPark namesake, Mike Levine. The event marked the official launch of the EcoPark for Industrial Circularity (EPIC) and was a chance to bring the community together in support of EPIC's mission to transform the property into a dynamic zero-waste facility, filling needed regional gaps to turn today's linear supply chains into tomorrow's circular local flow of goods. Mike Levine, First Merchants Bank, Washtenaw County staff, and RAA board members and staff were in attendance.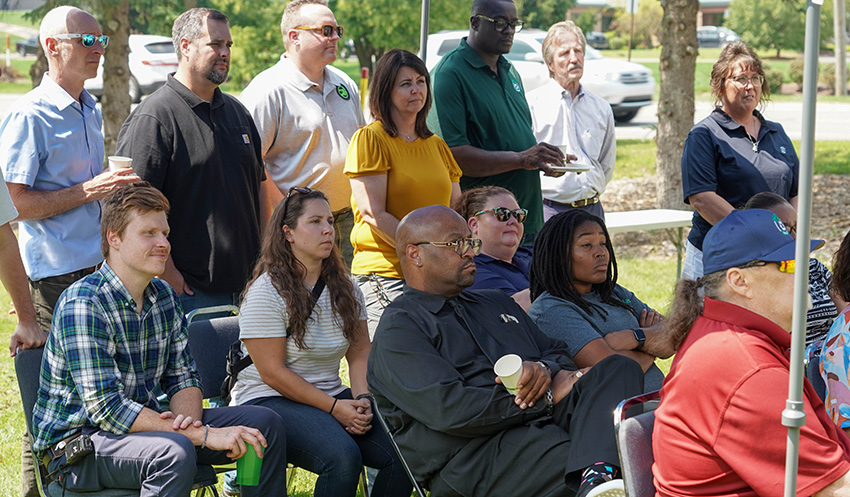 As part of EPIC development phase one, inventor, patent holder, and philanthropist Mike Levine provided Recycle Ann Arbor with a seed loan, enabling them to secure financing from First Merchants Bank for the purchase of the 20-acre Jackson Rd property. Additionally, Washtenaw County and EGLE (Environment, Great Lakes, and Energy) awarded Recycle Ann Arbor grant money to conduct the much needed zero waste gap analysis that allowed RAA to identify infrastructure and service gaps in the region. By focusing on circularity from the perspective of the local community, the Mike Levine EcoPark will provide solutions that prioritize local needs and connect to regional sustainability issues, including job creation, economic development, local foods, renewable energy, and environmental justice. 
At the event, Bryan Ukena, CEO of Recycle Ann Arbor stated,
"Recycle Ann Arbor is committed to a just and sustainable future, and we believe in our power as a mission-driven, community-based zero waste organization to meet our guiding vision for the next decade. We will help to build a circular economy that tackles our climate challenges by starting with innovative zero waste solutions in Southeast Michigan and that is our vision for the Mike Levine EcoPark for Industrial Circularity."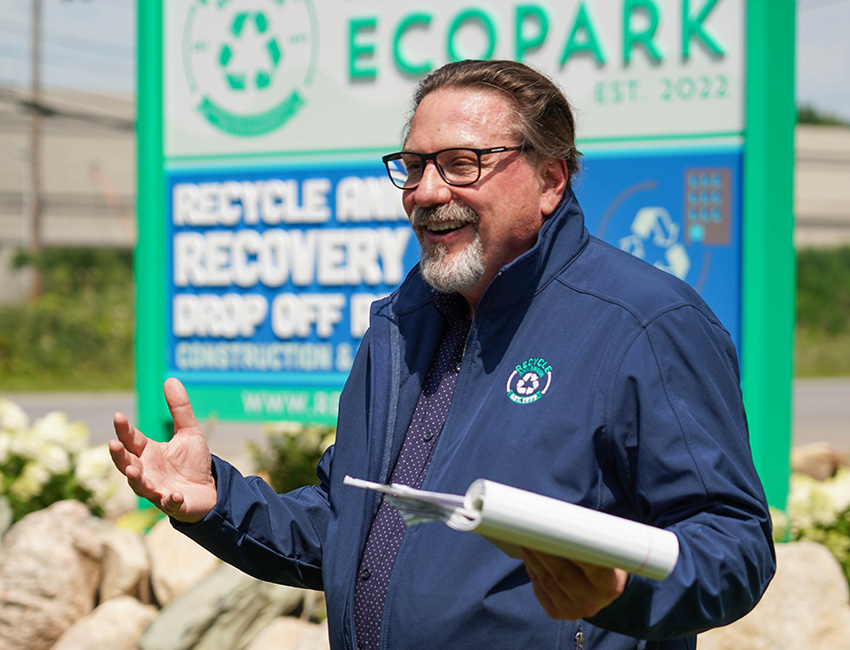 El Harissa catered the day's event and is one of several restaurants in Ann Arbor piloting a reusable/refillable container project in partnership with the City of Ann Arbor. RAA is also partnering with the City of Ann Arbor, Zero Waste Live and Perpetual to bring this demonstration to a fully operating model within our EPIC vision and believe there is a significant opportunity to increase recycling in the commercial sector in Ann Arbor through this initiative.
With phase one concluded, the second phase of EPIC includes community outreach, financial modeling, site plans, and permitting. RAA will secure partnerships, financing and other funding and then begin the third and final phase, the implementation of the operations.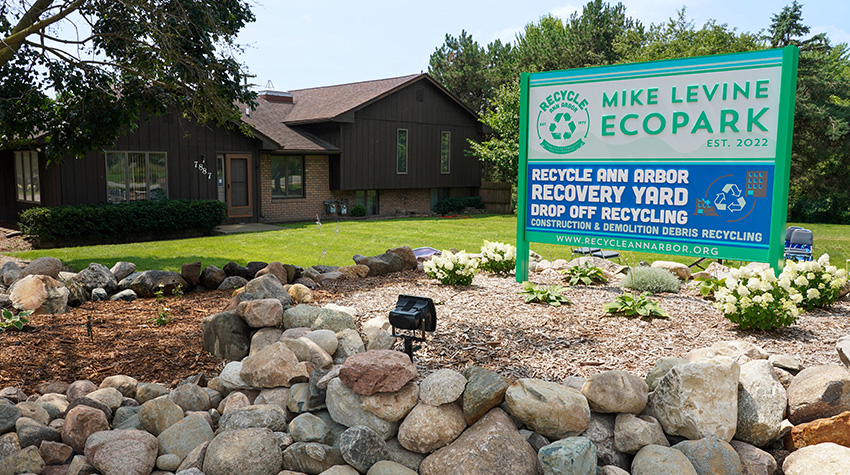 Developing EPIC into a model of local circularity for Southeast Michigan will continue to require strong partnerships and collaborations. With RAA as the lead, the site will be a home to businesses that provide zero waste services that address the immediate impacts of disposal and utilize recovered materials for their highest and best use. With the community's continued support, EPIC will address the critical need for infrastructure to build a circular regional supply chain.
Terri Cable, Regional President, First Merchants Bank stated,
"At First Merchants, our service philosophy is 'Helping You Prosper,' and I cannot think of anything that aligns with that goal more than ensuring a cleaner, greener future for our communities. Recycle Ann Arbor is dedicated to this mission, and their work to make recycling more accessible and available to the people of Washtenaw County is truly helping us all grow and thrive. We are proud to partner with and support them on the EPIC project and look forward to a lasting relationship as we both work to help this community prosper."
Bryan Ukena added,
"We have deep roots in Ann Arbor, having first begun collecting recyclables over 46 years ago in 1977. This is our community, and we give back by the service we provide, the partnerships we create, and the programs we support."
###
Recycle Ann Arbor (RAA) –  Ann Arbor, MI 
Recycle Ann Arbor is a mission based, non-profit community recycler whose curbside recycling program was the first of its kind in Michigan beginning in 1978. Nationally recognized as an established leader in recycling programs, Recycle Ann Arbor has been instrumental in diverting recyclable waste from landfills and reducing pressure on natural resources. This forward-thinking, organization uses innovation to help limit the abundance of reusable materials from ending up in landfills every year while supporting initiatives to improve the environmental quality of our community through the zero waste reduce, reuse, recycle model. Recycle Ann Arbor is divided into four divisions: the Material Recovery Facility, the Recovery Yard, the Drop-Off Station, and Curbside Recycling.