Acetone
Acetone is a chemical most commonly found in nail polish remover, certain cleaners, and some medical creams. You can take acetone products to Washtenaw County's Home Toxics disposal site.
Recycle Right!
Acetone should not be placed in your curbside recycling bin because it is a liquid and a hazardous substance. Dispose of Acetone safely at the Washtenaw County Home Toxics site. Save yourself a future trip by viewing Washtenaw County's list of accepted items before you go in case you have anything else to dispose of at their site!
Live Zero Waste!
Search online for safer, non-toxic alternatives to Acetone so you can avoid purchasing it in the first place. If you do need it, only buy a small amount that you know you will use up.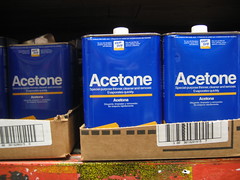 Accepted at:
Didn't find what you were looking for? Let us know!