All Divisions of Recycle Ann Arbor will be closed on Monday, May 29th, to observe Memorial Day. Curbside Recycle Carts will be delayed by one day through Saturday.
A2 Curbside Collection Guidelines
CART GUIDELINES
Placed out by 7 am (It is recommended that full carts be placed at the street curb the night prior to your service day to avoid having a late set out. All documented late set outs will have to wait until the following week for service)
Materials fit loosely inside cart
Lid must be closed
Metal lift bar faces the street
3 ft away from other carts and obstacles (Carts need to be 3 ft away from parked vehicles, mailboxes, street sign poles, building walls, fences and other items) 
12 ft of overhead clearance (Carts need to be placed 3 ft away from overhang spots like under tree branches, telephone poles, pole guidelines, building overhangs, downspouts, gutters, etc. See attached photo)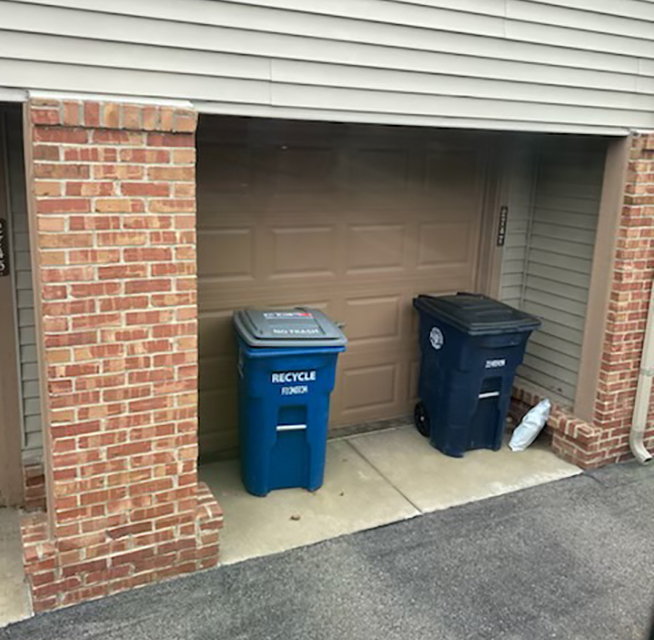 Clear of snow or ice
Does not exceed weight limits (Carts mtheust not exceed 112 pounds for the 32-gallon, 224 pounds for 64-gallon, or 336 pounds for the 96-gallon size. Carts over the limit will not be serviced)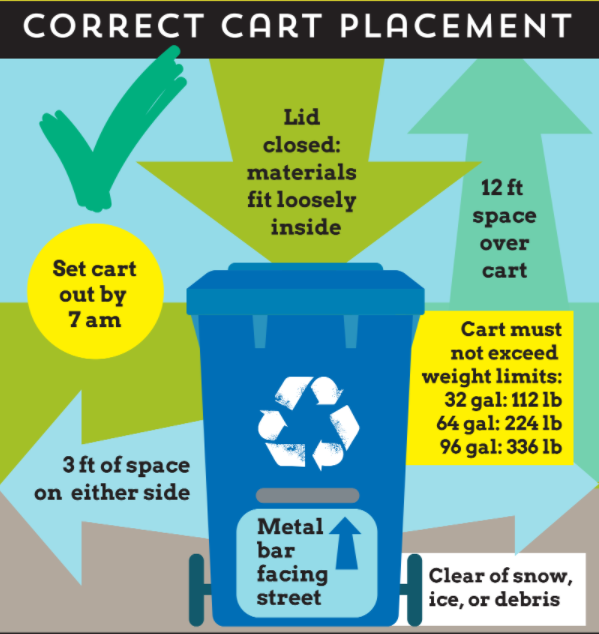 MATERIAL GUIDELINES
Materials must be empty, clean, and dry
No trash or unacceptable items
Only #1, #2, or #5 plastic bottles, tubs, and containers allowed
No bagged recyclables allowed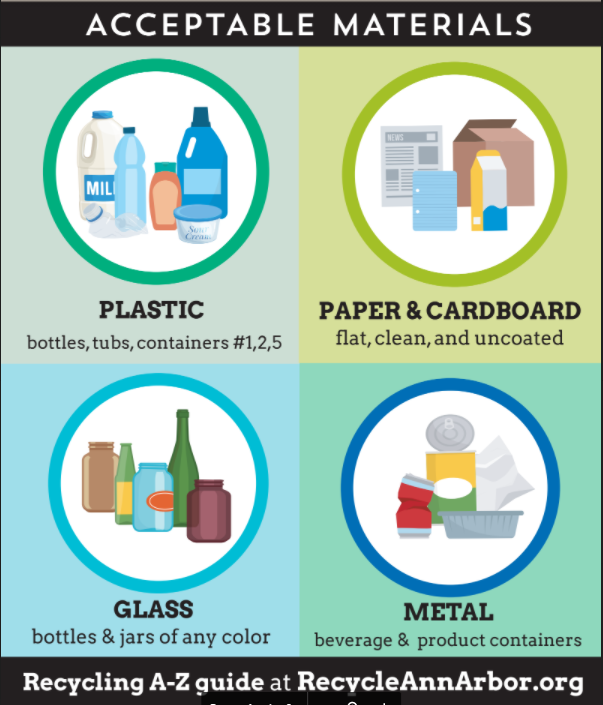 UNACCEPTED Materials
Yard waste, compost or food waste (Put in a lawn bag or in a City of Ann Arbor compost cart. For more information visit:   https://www.a2gov.org/departments/trash-recycling/Pages/Compost.aspx)
Soft plastics: plastic bags, bubblewrap etc.
#3, #4, #6, and #7 plastics: stryofoam, PVC
Hardcover books and shredded paper (Not even bagged shredded paper)
Biodegradable plastics (PLA or BPI)
Batteries, lightbulbs, or electronics
Paint, oil, medical waste, or syringes
Ceramics or Pyrex dishes
Construction debris, wood, window pane and mirror glass
Textiles or furniture (Sheets, clothes, bedding)
For items not accepted in the curbside cart, see if it can be accepted at our Drop-Off Station here.
Please email [email protected] for additional translation requests