SERVICE UPDATE: RAA will be testing new routes beginning April 3rd. Service days will stay the same but timing may change. Place carts out no later than 7am on your collection day, and if it hasn't been picked up by 4pm please notify the city at 734-994-7336 the following business day.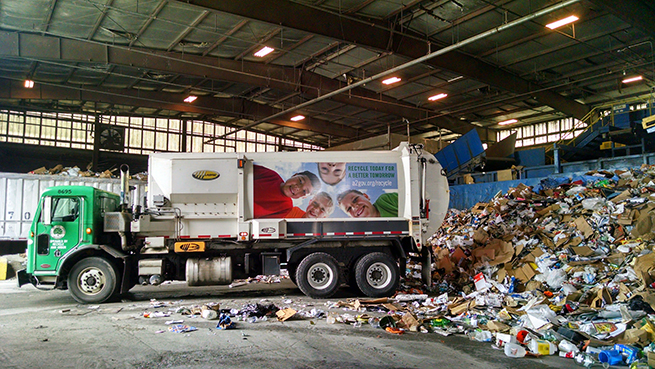 Rediscovering Ann Arbor's Zero Waste Mojo
By Mike Garfield, Ecology Center Director, Recycle Ann Arbor Board of Directors
Throughout the U.S., the recycling movement has been suffering body blows.  If it weren't enough that the Trump Administration was dismantling one major environmental policy after another, new quality-based restrictions by Chinese scrap markets have sent the value of many recyclables into a nosedive.  This is hurting all recyclers, but especially us in Michigan, where landfill overcapacity already put recycling at a disadvantage.  For years, the City of Ann Arbor managed to overcome global recycling counter-pressures with smart investments and good policy.  Now it's kicked off a planning process to write a new solid waste management plan for the community.
The right solution for Ann Arbor in 2018, however, is the same as it was in 2008 and in 1998 and 1988.  And it's what the Ecology Center and Recycle Ann Arbor have been urging the City to do since we started the first recycling program in Michigan way back in 1970:
Stop thinking about this as "solid waste management" and go about the work of building a zero waste community.
In a zero waste community, you don't just put your trash and recyclables in two separate bins—with one going to a landfill or incinerator, and the other to a loosely regulated oversea scrap market. 
A zero waste community uses less stuff in the first place; reuses and repurposes other things; works with manufacturers to redesign the "throw away" packaging; connects with other national, state and regional organizations to lobby governments and industry to coordinate meaningful action; invests in ongoing education for residents and businesses; and makes sure that what's left gets collected and reprocessed in an authentic way—into new recycled content products that can be recycled again and again or high quality compost that can grow healthy food.
It's time for a major correction.  Here's what the Ecology Center is recommending:
Reinvest in Local Recycling Processing.  Southeast Michigan has a scarcity of recycling facilities, so the shutdown of Ann Arbor's MRF in 2016 was a major blow to the region's capacity.  The City needs to rebuild its current facility, even if only for an interim period, to allow for the local processing of recyclables.
Rethink Downtown Collections.  Downtown residents and businesses generate very different types and amounts of materials that people in other neighborhoods, and they have to store them in alleys and other tight quarters.  To accommodate those conditions, the City needs to invest in a radically different approach to collection.
Create a Comprehensive Organics Service.  Other than non-recyclable plastics, most of what Ann Arbor landfills today is food waste and other compostable materials.  Hundreds of communities in North America now collect and process those materials into high-quality compost.  It's time we do that here.
Regionalize the System.  Many of the most important parts of the recycling infrastructure in the Ann Arbor area serve the larger metropolitan area, and they may be more economical to provide on a regional basis.  Washtenaw County is now facilitating talks between Ann Arbor and the other municipalities in the eastern part of the county to create a new regional MRF, expanded drop-off services, coordinated education programs, and joint collection services to allow for better economies of scale.  The County process is important and should proceed as quickly as possible.
Modern recycling was pioneered in Ann Arbor.  The best zero-waste-focused recycling programs have had to overcome one obstacle after another over the last several decades, and they'll overcome the current challenges.  For the Ann Arbor area, these four steps will bring it back to life.  The Ecology Center is working with City (and county) leaders to make that happen.  If you want to help get involved, please contact us at [email protected]