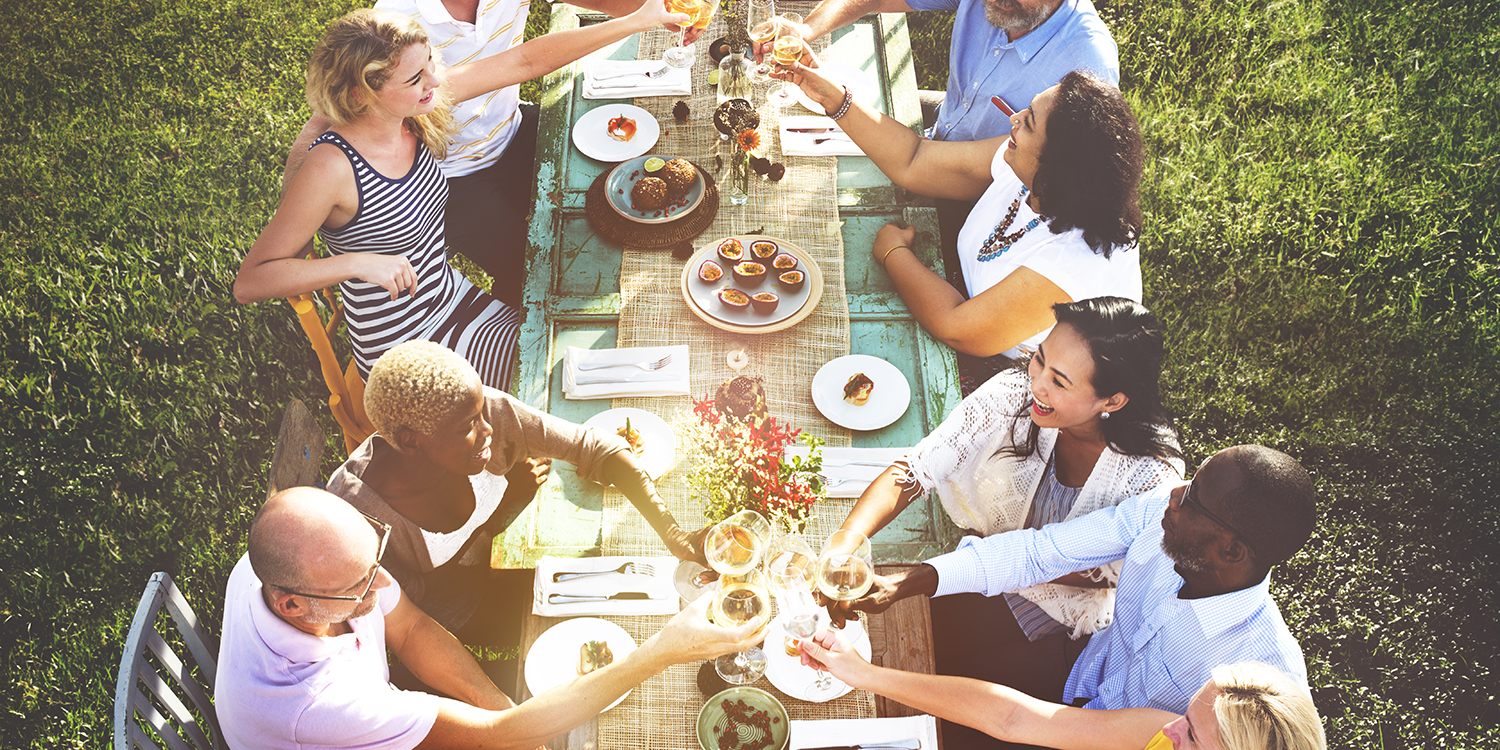 How to Have a Low Waste Summer; Part 2: Summer Party Tips
If you're going to someone else's gathering, bring your own reusable cutlery, cup, plate, and napkin. That will help you avoid any single-use disposable items that are being used. You may even spark a conversation or two with your reusables. Lead by example, people!
As a result of our Zero Waste Special Events program, we have a lot of tips for reducing waste if you're planning your own gathering. We recommend downloading our How to Host a Zero Waste Party, but we will walk you through what you'll need to think about before your event and the day of below.
Pre-event planning
Planning ahead is the key to having a successful zero waste event. You want to minimize the use of disposables as much as possible at your gathering and strive for only disposables that are locally recyclable or compostable. Therefore, you'll need to make sure you have the proper outlets for recyclables and compostables that you do collect. It is also important to think about other items you might need that you're not passing out at your gathering. For example, you may need more tables and chairs, which isn't necessarily something you'd think about making a zero waste decision about. Don't worry, we'll cover everything we can think of in the lists below:
Minimize Disposables
Plates/Bowls/Cups/Cutlery
Stock up on enough reusables. Check out the local thrift shops, like our ReUse Center, for reusable plates, bowls, cutlery, etc. You can often find matching sets in great condition. If you have a dishwasher, make sure it is empty before your party so you can put a few things in at a time as you find time. 
If you do use disposables, strive for BPI-certified compostable items. You can find these items at BGreen Today (2111 Packard Street).
Napkins
Stock up on cloth napkins. You can find these secondhand at thrift stores or buy new at local shops. 
If you do use paper napkins, strive for unbleached and with post-consumer recycled content.
Single-serve food and drink items
Avoid single-use condiment packets by setting out bulk containers. 
Avoid candy bars and other individually wrapped food items. Sweet treats and other snacks can be purchased in bulk locally!
Make bulk drinks in dispensers instead of getting single-use bottles and cans. 
If you are getting single-serve drinks, strive for aluminum and glass instead of plastic.
Menu Planning
Make a menu that is written down or typed up - not in your head! This is important for when you go grocery shopping so you buy exactly what you need and avoid over-purchasing. This will help prevent food waste. 
TIP: If you need help figuring out how much food to make for the number of people you're expecting there are tools online to help! One of them we like is the Guestimator by Save The Food.
If you're asking guests to bring a snack or dish to pass there are a few ways you can plan ahead to reduce food waste. First, let them know what you plan to provide and do not need them to bring. Second, ask them to let you know what they are going to bring so five people don't bring the same thing. This means you need to check in with people before the day of and communicate with people who are duplicating items. Or, if your group is tech-savvy, you can create a shared document online for people to add their names and what they plan to bring.
If you don't want to be stuck with a bunch of leftovers and also don't want to give away all of your reusable food containers, you can ask your guests to bring their own container to take leftovers.
Decorations
Minimize disposables
Use decorations that can be saved and reused! You can get decor items at the local thrift shops or get crafty and make your own. There are so many ideas online for upcycling thrift store finds and making your own decorations with minimal supplies. 
Only get disposables that can be composted or recycled.
Idea #1: Sustainably produced local flowers from the farmers market. 
Idea #2: Nature from your backyard - pick your own flowers, make confetti by hole-punching leaves, or make something with sticks. 
Furnishings, Games, and More
Need extra tables, chairs, table cloths, etc? Ask your local friends and family if you can BORROW before you go buy it for yourself. Put their items sitting in the basement to use instead of getting your own. Do the same for yard games, indoor games, and anything else you might need before you go buy new.
Avoid disposable table cloths - especially plastic ones.
Day-of-event
Luckily, most of your work to have a zero waste party will have been done before the event! The most important thing to do on the day of your event is set up an easily identifiable and clearly labeled waste collection system (or systems, depending on the size of your event) for your recyclables, returnables, compostables, and trash. 
Waste Collection Station Considerations
We recommend putting a sign with each bin that is clearly labeled and has a list of items that should go in that bin. Check out our Zero Waste Station signs for examples.
Since some of us learn better by hearing instead of seeing, it is important to talk to your guests about your efforts and what materials go in which bin.
Monitor and decontaminate the waste collection stations throughout the event instead of saving it for the end. Trust us, this saves time and lots of digging.
We offer consultation and rental of our zero waste stations for private events. Contact Angela Porta for more information at angela@recycleannarbor.org or 734-662-6288 ext. 119.