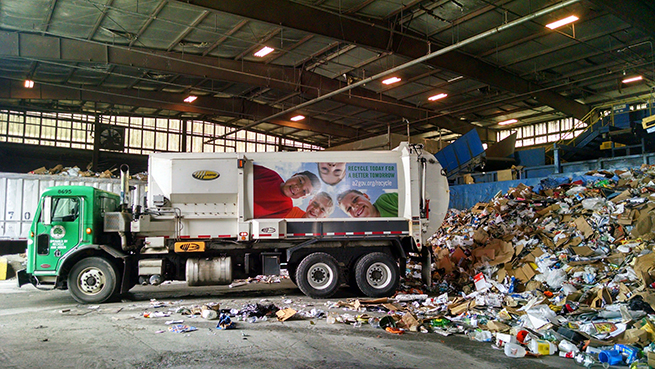 Recycle Ann Arbor's Mission-Based Recycling Weathers the National Storm
News coverage abounds surrounding China's recent restrictions on the imports of recyclables painting images of a doomed recycling industry. While the current national situation is troubling, we want to make sure our community is informed about what is going on and how we have been impacted locally.
Until recently, China was the world's largest importer of waste. The U.S. had been sending roughly 40% of its recyclables to China, with some cities in the western U.S. sending upwards of 60%. In 2013, China introduced Operation Green Fence to strengthen their inspections of recyclable imports to ensure they met the criteria of no more than 1.5% contamination. For years following Green Fence, China still struggled with enforcement of recyclables standards and illegal imports of materials.
In 2017, China began to roll-out their National Sword policy to address illegal smuggling and trash laden loads of recyclables. China's National Sword led to a sustained pause in import permit renewals and the stockpiling of recyclables at some U.S. Materials Recovery Facilities (MRFs) that had no other outlets for the materials. National Sword quickly evolved and in July 2017 China filed a notice to the World Trade Organization confirming that they were going to ban certain materials and set strict contamination limits on recyclable loads by the end of 2017. Additional import restrictions and increased enforcement under National Sword have rolled out in phases over 2018 and into 2019. Meanwhile, other countries in Asia have also begun implementing restrictions and bans since materials have been largely redirected to them in lieu of China. For a more detailed timeline visit: https://resource-recycling.com/recycling/2018/02/13/green-fence-red-alert-china-timeline/
Today, China has a contamination acceptance rate of 0.5 per cent for the materials they will still accept and prohibits the import of many materials, primarily mixed paper and plastics.
The system of sending recyclables from the U.S. to China for so long has led to a lack of domestic infrastructure to process recyclables. This has left many communities in the U.S. with processors that relied almost exclusively on export markets. Other communities simply cannot pay the increased price for recycling that has occurred as a result of lower commodity values and increased processing costs to meet the 0.5 per cent contamination threshold.
While we have felt the impact of China's National Sword through decreased commodity prices, we have continued to uphold our commitment to the community and the environment and can assure you that Ann Arbor's recyclables are not being landfilled or incinerated. Since July 2017 we have been sending Ann Arbor's recyclables to Rumpke Recycling, a family-owned and operated company, in Cincinnati, Ohio. Rumpke does not rely on export markets and has long-term domestic outlets for their materials.
We reached out to Rumpke last week to ensure we had the most up to date information to share with the community and were reassured by the following message:
"Over 97% of the recyclables Rumpke collects and processes are shipped to domestic markets. Rumpke can accomplish this domestic rate through long-term relationships with many regional and Ohio-based outlets.
We are fortunate in the Midwest to be in proximity of a number of consuming fiber mills as well as plastic processing/grinding facilities. In addition, Rumpke's glass processing facility in Dayton, OH provides a consistent home for all of the glass we collect through our MRFs.
The key to maintaining viable domestic outlets and making the quality specs they command is dependent on the quality of the inbound stream. Residents should feel confident that if they are following the guidelines of acceptable materials, these materials are able to captured and recycled domestically."
You can hear more about this from Rumpke's Director of Recycling, Steve Sargent, on the 700 WLW radio interview from March 7th at around the 36-minute mark where he explains the difference in impact that the National Sword policy has had on the Midwest compared to coastal regions, the specific impacts it has had on Rumpke, and the opportunities that the current situation presents for development of domestic recycling markets.
We are aware that plastics are the main topic of concern and want to reassure the community that the acceptable plastics in our curbside recycling program are being sorted and recycled. Rumpke sorts plastics into categories of #1, #2, and #3-7. These plastics are then recycled into new products such as bottles, drainage pipe, and paint cans through regional and national companies in a variety of industries. All other materials are sorted by material type (aluminum, steel, glass, mixed paper, office paper, and cardboard) and recycled into new products as well.
As a mission-based non-profit, Recycle Ann Arbor will continue to ensure our recyclables are being recycled and will provide periodic updates to the community on the evolution of markets and new opportunities for recovery.