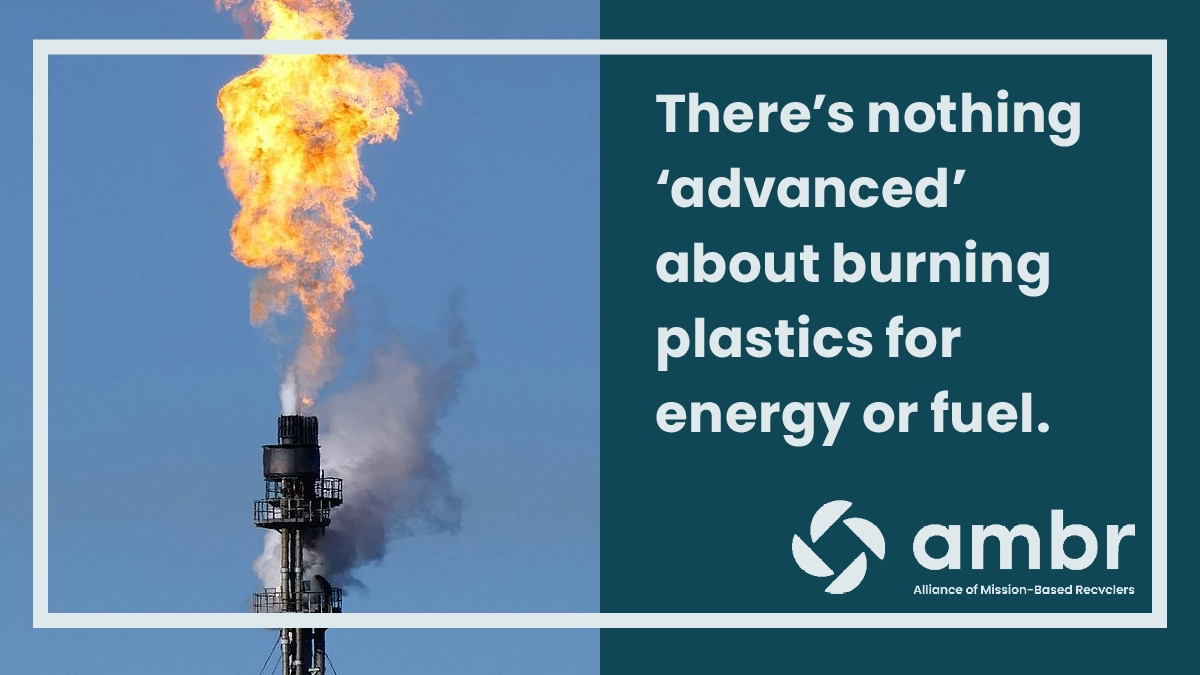 Mission-Based Recyclers Denounce Plastics-to-Fuel Technologies as False Solutions, Urge Lawmakers to Focus on Three Policy Pillars to Address Plastic Pollution Cris
Press Release, March 16th, 2023
Thea Hassan: AMBR Communications Manager - [email protected], 607-425-8066
Recycle Ann Arbor (RAA) is a founding member of the Alliance of Mission-Based Recyclers (AMBR), which today released two reports staking out a clear position against policies that promote "chemical recycling." The reports "'Chemical Recycling' Will Not Solve Our Plastics Problem" and "The False Promise of Plastics-to-Fuel Technologies" detail the environmental and economic falsehoods behind the push for "chemical recycling" and provide policy recommendations for decision-makers to invest in real solutions.  
As American communities fight to keep plastics-to-fuel facilities from harming their environment and health, the Alliance of Mission-Based Recyclers urges state and federal lawmakers to reject any policies supporting plastic-to-fuel technologies. 
"There's nothing 'advanced' about burning plastics for energy or fuel," said Martin Bourque, AMBR founder and Director of Ecology Center in Berkeley, CA. "Plastics-to-fuel technologies are overhyped, overpriced plastic burning schemes that only enable the production of more harmful plastic packaging and increase our dependence on oil and gas."
The AMBR reports assert that, rather than searching for technologies to capture the ever-increasing volumes of plastics, policies are needed to prevent fossil fuel extraction and plastic pollution and protect communities from becoming the dumping grounds for even more plastic waste and unproven technologies.
"There is unprecedented momentum around the country to address the plastics crisis, but these technologies are a dangerous distraction from real solutions. Legislators should reject 'chemical recycling' policies and focus on three priority policies to truly address the plastic pollution crisis and reduce our reliance on fossil fuels for plastics—Extended Producer Responsibility, Bottle Deposit Systems, and Minimum Recycled Content standards," said Kate Bailey, Policy Director for AMBR and Eco-Cycle. 
AMBR firmly opposes "chemical recycling" policies recently adopted in several states and pending legislation such as MN SF1392 in Minnesota, A 5803 in New Jersey, and H 6675 in Rhode Island. AMBR also urges local communities to reject any proposal for plastics-to-fuel facilities. AMBR supports residents and lawmakers in Macon-Bibb County, Georgia, who are actively opposing Brightmark's proposed construction of the world's largest chemical recycling facility in their community. Mayor Lester Miller said he opposed the facility due to concerns about the untested plastics-to-fuel technology and concerns about air quality and environmental impacts.
"AMBR members collect, sort, and recycle hundreds of tons of recycling every day and we know firsthand the challenges of the plastics recycling system. But so-called 'chemical recycling' is not a solution any materials recovery facility operator should support, period. AMBR urges recycling operators to reject sending any loads of materials to plastics-to-fuel facilities," said Bryan Ukena, CEO, Recycle Ann Arbor. 
AMBR calls for investments and policies to first focus on reducing plastic production and building up reuse systems. Investments in recycling should then focus on scaling up mechanical plastics recycling processors, businesses, and technologies. AMBR then outlines key questions for recyclers to ask before sending recycled plastics to emerging plastics-to-plastics processes such as depolymerization and purification. In their reports, AMBR recognizes these processes could become complementary to mechanical recycling if they can be proven to be environmentally sustainable and economically viable. 
As outlined in their two reports, "chemical recycling," specifically plastics-to-fuel technologies, requires a steady stream of plastic waste to create fuel, thus perpetuating the increased extraction of fossil fuels. Because no feedstock is recaptured in the process, these are linear technologies, not circular. Fuels produced from these facilities are combusted just like conventional fossil fuels, leading to climate pollution, air and water pollution, and all the known environmental and health concerns caused by burning fossil fuels. AMBR stands united with the Ellen MacArthur Foundation, U.S. Plastics Pact, ISO standards, and many others that plastics-to-fuel technologies have no role in a Zero Waste future. 
Instead of investing in risky, unproven plastic-to-fuel technologies, AMBR recommends investors and legislators focus on strategies that will reduce plastic pollution and our dependence on fossil fuels, and the resulting climate impacts. 
AMBR's recommendations include: 
Eliminate problematic and unnecessary plastics; 
Reject all forms of plastics-to-fuel technologies; 
Stop using "chemical recycling" and "advanced recycling" as blanket terms as there is too much variance among technologies falling under this broad label; 
Invest first in proven policies and programs to strengthen mechanical recycling; and 
Only explore emerging molecular plastics-to-plastics technologies that may complement mechanical recycling programs.  
"The end goals of any plastics recycling should be to reduce reliance on virgin fossil fuels and support a circular economy," said Lynn Hoffman, National Coordinator for AMBR and Co-President of Eureka Recycling. "Every recycling system should be evaluated based on its ability to meet these goals, and chemical recycling fails the test."
Read the full reports here: 
"Chemical Recycling" Will Not Solve Our Plastics Problem
The False Promise of Plastics-to-Fuel Technologies
###
Recycle Ann Arbor (RAA) –  Ann Arbor, MI
RAA has been a non-profit community-based Zero Waste recycler for over 40 years. RAA's curbside recycling program was the first in Michigan, beginning in 1978. Nationally recognized as an established leader in mission-based recycling, Recycle Ann Arbor has been instrumental in reducing waste through education, outreach, reuse programs, and ensuring the items that can be recycled are really recycled. Because of  Recycle Ann Arbor's unique approach of providing material collection and processing uniquely driven by a zero-waste goal, it's able to look both upstream and downstream to help create system-wide solutions. RAA understands that recycling alone will not solve the waste crisis. While recycling is part of the solution, we need progressive Zero Waste policies, like extended producer responsibility (EPR). Recycle Ann Arbor includes four operational divisions: the Material Recovery Facility, the Recovery Yard, the Drop-Off Station, and Curbside Recycling, as well as advocacy and outreach programs. For more information, visit recycleannarbor.org.
 
Alliance of Mission-Based Recyclers (AMBR)
AMBR is a coalition founded by four of the original pioneers of mission-driven, community-based nonprofit recycling in the U.S., Eureka Recycling, Eco-Cycle, Ecology Center, and Recycle Ann Arbor. By revealing facts and myths about how recycling works, modeling innovative policies and practices, and influencing the national conversation, AMBR is guiding new recycling policies and infrastructure investments to rebuild credible, transparent recycling systems that support a sustainable circular economy and just, resilient local communities. For more information visit ambr-recyclers.org/. 
Additional AMBR Founding Members: 
Eco-Cycle – Boulder, CO
Founded in 1976, Eco-Cycle is one of the nation's oldest and largest nonprofit recyclers, and as such, has pioneered many "firsts" in the industry, including one of the first curbside collection services for household recyclables, making the City of Boulder among the first 20 cities in the country to offer curbside recycling. Eco-Cycle created the Center for Hard-to-Recycle Materials (CHaRM), the first facility of its kind in the US, and the Green Star Schools program, the first program in the nation to reduce waste in every aspect of school life. Eco-Cycle plays a unique and critical role as a social enterprise that partners with every sector of the community—schools, businesses, neighborhoods, local governments, and public events—to make Zero Waste accessible and affordable for all. Eco-Cycle's mission is to innovate, implement, and advocate for local and global Zero Waste solutions to foster a more regenerative, equitable, and climate-resilient future. For more information, visit ecocycle.org. 
Ecology Center – Berkeley, CA
Founded in 1969, the Ecology Center is a nonprofit organization located in Berkeley, California that focuses on improving the health and the environmental impacts of urban residents. The Ecology Center's mission is to inspire and build a sustainable, healthy, and just future for the East Bay, California, and beyond. For 52 years, the Ecology Center has been a leader in community-based environmental programming spanning Zero Waste, food access & equity, youth development, and climate change. We address critical issues through a model of education, demonstration, replication, and advocacy. The Ecology Center is the originator of curbside recycling and the recycler of record for the City of Berkeley since 1973. As such, the Ecology Center has a unique voice in the current dialogue regarding disposable plastic, plastic recycling, and waste reduction. We envision a world where human activity nurtures the ecosystems that we all depend on — a world of sustainable cities; empowered, resilient communities; Zero Waste and zero toxics; equal access to healthy food; sustainable resource use; and a safe and stable climate. For more information, visit ecologycenter.org. 
Eureka Recycling - Minneapolis, MN
Eureka Recycling is dedicated to demonstrating that waste is completely preventable, not inevitable. A nonprofit Zero-Waste organization and social enterprise recycler based in Minneapolis, Minnesota, Eureka holds the two largest recycling contracts in the state of MN servicing the cities of Minneapolis and St. Paul, and operates a collection fleet and 100,000 tons-per-year single-stream MRF with a mission-driven triple-bottom-line approach that balances environmental, social and economic benefit. Eureka works to bridge the gap between a vision for a Zero Waste future and the realities of today with tangible, real-world solutions.  Eureka's programs and services demonstrate alternatives to the way we manage our resources and create solutions to the most pressing issues of our time, including climate change, building strong local economies, and supporting healthy equitable communities. For more information, visit eurekarecycling.org.